If you start looking at websites as assets that can be built, bought and sold — your (internet) worldview changes. At least that's been the case for me.
For far too long, I wrongly held the view that websites could:
Both of these couldn't be further from the truth.
Imagine if you could buy a website for $5,000 and sell it a year later for $100,000 (or more). It's not out of the realm of possibility.
This process is known as "website flipping", where you buy a website that you deem to have potential, then unlock that potential and sell it for a profit.
In this blog post, I'll cover how you can flip websites for a profit and some important things to consider before you get started on this journey.
Flipping as a Business Model
Back when buying things online were still perceived as risky, I used to buy brand new cycling and mountain biking products online from the USA, use them for a while, and sell them for a profit in Australia.
Yes, I bought them new, sold them used, and made money. I've done the same with automotive parts and (albeit used when I purchased them) complete cars from Japan.
I didn't realize it at the time, but I was creating value by:
seeking out the best prices,
taking on the risk of using a credit card online, negotiating foreign exchange rates with banks and navigating escrow services,
working out how to get products shipped to Australia (surprisingly difficult back then),
making it easy and safe for a local buyer to purchase a product they could see in person.
You might not have done it consciously, but you've probably done the same in the past. I know people who buy antique furniture, watches, or classic cars, give them some much-needed love, and then sell them for a profit.
The issue with bike components, antiques, watches and cars are that they take up space, need to be kept safe while you own them, and need to be transported.
So why not do the same with websites?
Websites can be built, bought, and sold from your home office. They can be moved across borders. This makes them location independent, allowing you to live in a different location to the business that earns you money.
Barriers to entry are about as low as they get — as long as you have an internet connection and can afford some half-decent web hosting (like Flywheel), you're good to go.
What is Website Flipping?
Investing in websites that are already making money, improving them either by increasing the amount of traffic that visits the website or making more money from the same amount of website visitors (or both), then selling the website for a profit.
That's website flipping for you.
Of course, this is an oversimplification. From selecting the right website to putting in months of work to improve its search rankings — a lot goes into the actual process.
While there are some "off the shelf" (or out of an eBook) processes that you can follow, if you want an edge in this space you'll want to spend some time finding a process that works for you.
What I love about site flipping is how it can be done on both a big or small scale. You might buy a website for a few hundred dollars and sell it off 10 times what you bought it for.
You might be surprised to learn that the same inputs and processes could grow a $50,000 website to $500,000.
Oftentimes, the larger the site, the less work you need to do, as the work you do on the site scales further, though the stakes are obviously higher. 
Invest the profits back into buying more websites to flip and you can end up with a large chunk of change after a few years.
Site Flipping: To Buy Or To Build?
The most common question you'll find yourself asking is "Should I buy a website or build one myself?". In the end, it all comes down to personal preference.
Do you enjoy setting up websites and see an opportunity in having control over the way the site is set up? Or would you rather buy a "proof of concept" that needs some tidy up and growth inputs?
There are pros and cons to both routes, but there's no perfect answer. I've both bought sites and built them and I can't exclude either option for a good reason. I'm still building sites today when I can afford to buy them.
Building From Scratch
Building a website from the bottom up can be both a lot of work and a lot of fun. If working with websites is something you enjoy, then this route could work well for you.
The main challenge is the amount of time it takes to get a website up and running. The entire process looks something this:
Finding a profitable niche
Spinning up WordPress (WordPress sites are easier to sell than other content management systems)
Picking a traffic generation strategy (content sites are typically easiest to flip)
Having the best SEO practices in place
Google claims it doesn't exist, and SEOs fight about this stuff, but there's very clearly a "sandbox" or some sort of time-related factor in their algorithm. This means a brand new website rarely gets a lot of traffic out of the gate. It needs time (and links, bro).
Don't forget that your website will need to be thoroughly optimized to even make it to the first page of Google.
Building from scratch, I wouldn't expect to flip before 18 months. I see many sellers flipping their sites before this time, and they always represent insane returns for us as website investors, because they sell before they're out of the sandbox.
Buying a Website
With an up and running website, most of the groundwork is already done. Someone's spent the time on some basic branding, produced some foundational content, (hopefully) earned some backlinks, and proven a way to make money.
Perhaps most importantly, they've given the website time, allowing you to grow it faster than if you were building it from a newly registered or previously parked domain.
This means you can skip straight to the interesting part – optimizing the website and growing revenue ASAP.
Psychologically, for a lot of people, it's easier to grow something that is established. It can be the same amount of work to go from 0 to 1 than 1 to 10.
Online marketplaces are some of the popular places you can buy (and sell) websites.
Before you go ahead and purchase a website though, make sure you do some very critical research, aka due diligence.
You don't want to invest $30,000 in a website that is going to see it's Google rankings jump off a cliff in a few months, or see it's revenue magically stop being paid tomorrow.
This is a topic in itself, so if you want to read up on it in more detail, check out my guide to website due diligence.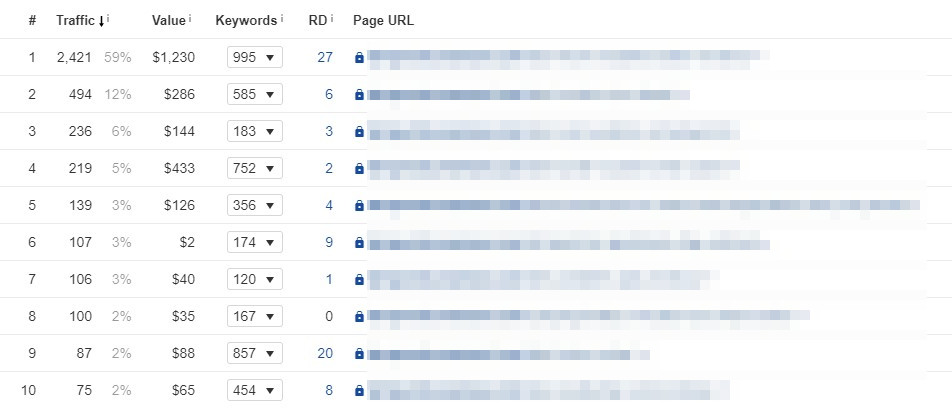 How To Flip Websites: A Complete Breakdown
When you find the right buyer, you can sell a quality website for around 34 times its monthly earnings. If you can buy that site while it's earning $2,500 per month and sell it when it's doing $25,000 per month, the valuation multiple mostly remains the same.
Of course, this sounds easier than it actually is. When it comes to the actual process, there's plenty of work to be done. Some of this work can be outsourced, especially the content, link building and technical SEO.
Let's dig into how to flip a website…
Choose a Website With a Proof of Concept
Before you learn how to make money from flipping websites, you'll want to learn if a site is even worth spending time and money on.
Every seller loves to tell you about their site's potential. Maybe they have a tonne of organic search traffic or 50,000 email subscribers but the site currently only makes $17 per month.
Whatever the case may be, you must do your own research to make sure that the site actually works.
You want to buy a site with a clear proof of concept. The traffic source and monetization method should work well together at this point.
If the site has a beautiful theme but no traffic and no proof of revenue, someone is just selling their failed idea and you'll have to invest a lot of time or money in making it work.
Evaluate the Site's Growth Potential
Before buying a site you like, it's a good idea to consider the upside of your potential investment.
Where will this niche be in 5 years? A site about hoverboards or fidget spinners is unlikely to stand the test of time. Compare that with kitchenware or football which aren't going to see demand drop any time soon.
Does the site have the potential to increase its traffic? There are some not-so-time-consuming methods you can employ to answer these questions and understand the growth potential of said website.

I recommend starting with a good ol' SEO audit. Doing this will help you to identify foundational issues that could be affecting the site's organic search performance.
A thorough audit will reveal technical, on-page (including UX problems), and off-page SEO issues. When you dig deeper you'll also find missed opportunities related to content—known to many as a content gap. Analyzing this gap should be your next step.
The "content gap" refers to relevant content that's not present on the site. By finding topics that aren't yet discussed on the site, but that are relevant to the topics already discussed on it, you're giving the website more opportunities to attract traffic.
The last piece of the puzzle is to make sure that the website has a functional and reliable revenue stream.
Is there a way that you can add another source of revenue the day that you purchase the site? If it earns from a private affiliate program, can you simply enquire to ask for a higher commission?
As you look at more deals you'll realize that some are just tapped out. Every imaginable article has been written, there are more links than the site will ever need, they have already negotiated a higher commission and it already runs display ads.
In these situations, it's probably not going to be a great site to flip for a profit unless you are a genius.
Make It Better
After you've found a site with a clear path to potential, it's time to put your plan into action.
I can't tell you exactly what to do here because every site and operator is different. The summary, however, is that you want to find a way to:
Increase traffic, and
Make more money from that traffic
Play to your strengths and leverage your expertise. If you're a Pinterest guru, you could involve adding that as a traffic source. If you're a sales hustler, maybe you can pitch brands to advertise directly on your site.
Because I know how to use HARO, I usually win some hard-to-get backlinks from the platform, audit the site's content, delete some, then optimize a heap of it, then audit the site from a technical point of view and fix those issues, including internal linking.
Often that's enough to get a traffic boost, but after this I'll usually publish more traffic as well.
There are no rules as long as it makes more money, reliably, and that source of revenue can be passed on to a future owner.
Maybe you can double traffic, which in theory doubles the revenue. Or maybe you can improve monetization, to make twice as much money from the same amount of traffic.

If you can find a way to increase traffic and improve monetization at the same time, you get a multiplier effect too.
This can be as simple as buying a site that currently makes money via Amazon Associates USA. By adding OneLink so it also makes some extra revenue from Amazon purchases in the UK and Canada you might get a 10% revenue bump. Throwing display advertising on might give you a 20% boost too.
Would you be disappointed with a 30% increase in revenue overnight?
Now you can go back and work on your technical SEO, build some quality backlinks, and publish a heap of content.
The more you learn this process, the more money you'll make from flipping these websites. As time goes on you can squeeze more and more money out of each visitor.
Considering Valuation Multiples
Remember that you're not just selling a website — you're selling the revenue and the systems behind it.
As a general rule, you're probably going to get 36x your monthly "seller's discretionary earnings" or "SDE" when you sell the site.
SDE is similar to EBITDA in that it is essentially the site's revenue plus the same costs that the buyer will incur, such as domain registration, web hosting, email hosting, and so on. It does not include a salary if you pay yourself.
This said, some sites will sell for much lower and others for much higher. Nevertheless, this analysis gives you a fairly good idea of how to make money from buying and selling websites.
If you are willing to take on some risk and are not in a rush to sell, nothing is stopping you from buying at 24x monthly SDE on Flippa and listing it immediately with a higher-quality website broker that commands premium valuation multiples.
Put it Up For Sale
Listing your website for sale is the final step. While it's true that websites in some niches sell better than others, as a general rule of thumb you can get a better valuation if you're willing to package the site up nicely. To prepare for the sale you'll want to package up the following:
Domain name/s and access to the website, ready for migration
Access to any email inboxes
Guarantee that the content is original and photos are correctly licenses
SOPs for any processes like content creation, link building, maintenance, social media, etc
Ownership of Google Analytics
Ownership of social media profiles
Original copies of logos and any branding
The best way to reach potential buyers is the same online directories where you bought your website.
On the other hand, you may want to put a "for sale" listing on your site in the footer. A friend of mine bought a site for $2,500 direct from the seller when he noticed there was a "for sale" page in the menu 6 years ago and sold it last year for north of $2.5M.
Depending on the size of your site and how motivated you are to sell it, you can go the long haul approach of selling at a fixed rate or just roll the dice and auction it off.
Investing in websites is like investing in other illiquid assets—you decide when to list and the market decides when you sell your investment. Don't ever put yourself in a position where you need to sell unless you want a low multiple.
Flipping Websites: An Exercise in Confidence
Though not my preferred way to operate websites, I see the appeal of flipping them. I love the cash flow that sites can bring but when you have a payday staring you at the face, it's not the worst idea to take it.
If you are confident in your ability to improve sites, there's no reason why you can't do it over and over again, pushing the boundaries further each time you do it.
It's not always easy, and you'll probably make some bad acquisitions, but this has helped me to develop a new skill as well. With time and mistakes I've come to learn the difference between websites that represent a "fairly clear path to money" and "danger, stay the f*ck away".
It's only going through this process that I've finally come to learn what other entrepreneurs mean when they say to "invest in yourself". You will make mistakes along the way too, but those mistakes are just an investment in your knowledge.
Of course, if you don't want to do the work yourself there's always the option of working with an operator.
A website operator will usually have their own team, or be a form of project manager that outsources to third parties. Most will operate on a flat rate basis, but some will take on more responsibility if offered a share of the upside that they create.
It sounds great in theory, but in reality, finding operators that know what they are doing and act in your interests is a difficult task.
Are you flipping websites for a living or wanting to get started? Leave a comment to let me know what you're up to!