If you've been searching for a managed WordPress hosting provider, it's likely you've come across Flywheel hosting. But there are plenty of competitors too, like Cloudways, Kinsta, WP Engine, WPX Hosting and so on. How are you meant to choose one over another?
It's tricky.
I'm fairly confident marketing directors at web hosting companies design their products so you can't compare them against each other as well. Some show server resource allocation, some bill per page viewed, others have a long list of add-ons while others bundle everything in.
I've bounced around with a lot of web hosts in the last 20 years and now that I exclusively build my own sites on WordPress, finding a managed hosting company that makes my life easier while providing a quality product is important to me.
As an ex-IT system admin, I can and have (many times) set up my own web hosting environments. But I don't anymore.
Why? Time! I want my websites to earn money. To do this, I need to spend time and energy on building and growing my sites, not on managing servers.
Managed hosting allows me to outsource the server administration work. It saves huge amounts of time and helps to streamline my workflows.
I have hosted over 50 sites on Flywheel hosting over the last 5 years — everything from very simple WordPress sites that still run the 2017 theme, all the way to resource heavy multilanguage WooCommerce sites with large databases.
Aside from a few hiccups, Flywheel's managed WordPress hosting has mostly done right by me.
In this review, I'll cover everything you get when you sign up with Flywheel, along with some of the many features that make Flywheel a popular choice for WordPress hosting.
Flywheel Hosting For WordPress: An In-Depth Review
Working with websites used to require patience and organization. Previously you needed to upload installation archives and manually set up databases. I haven't done this with WordPress for years now!
Having a web hosting platform that simplifies your workflow, keeps things organized and is both reliable and high performance is the goal. If you're like me and have many websites in your control at any one time, it's easy to lose track of things.
Managing them with Flywheel is a godsend. Whether you're a freelancer, an agency, or just a regular WordPress user — Flywheel has a host of tools up its sleeve to make life easier.
In the past 5 years, there's been plenty that I enjoyed, but some things that I could do without too. Let's dive right into it.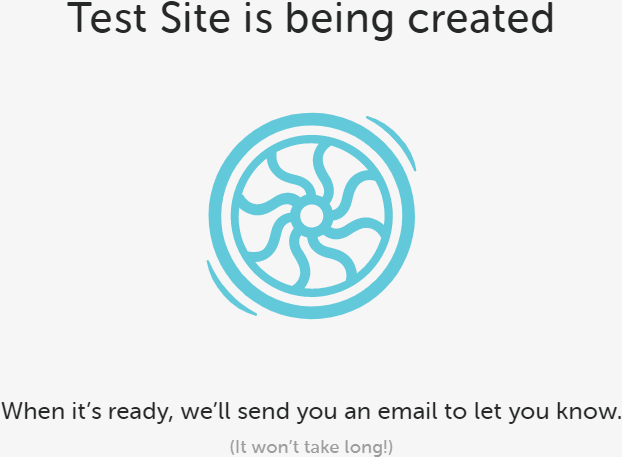 Control
If you're coming from a world of self-hosted WordPress, switching to a managed WordPress host is something you'll need to adapt to.
Many system files are out of your control and can only be edited via Flywheel's support. An example of this is your wp-config.php file. Where on other hosts you can SFTP in and make a change, with Flywheel you'll need to contact their support and ask (beg) for more memory (or whatever you're doing).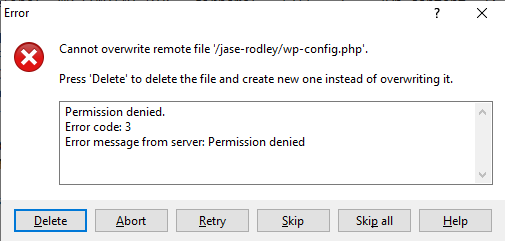 It probably took me 3 years to accept this. 😂 But there's a major benefit to it.
Exploited plugins and hacking attempts generally don't impact sites that are hosted on Flywheel. As you'll learn from the rest of this post, my whole goal is to save time, and not needing to fix hacked sites on a Sunday evening is absolutely on my to-do list.
Dashboard Navigation and User-Friendly Layout
The way a dashboard is designed can either make life easy or frustratingly difficult. In comparison to other web hosts, Flywheel offers a simplified and well-organized dashboard experience — perhaps one of the best that I've encountered.

If you are used to cPanel or having complete control, Flywheel's dashboard will probably come as a shock.
Instead of many configurable options, you get a clean and simple layout with the essentials.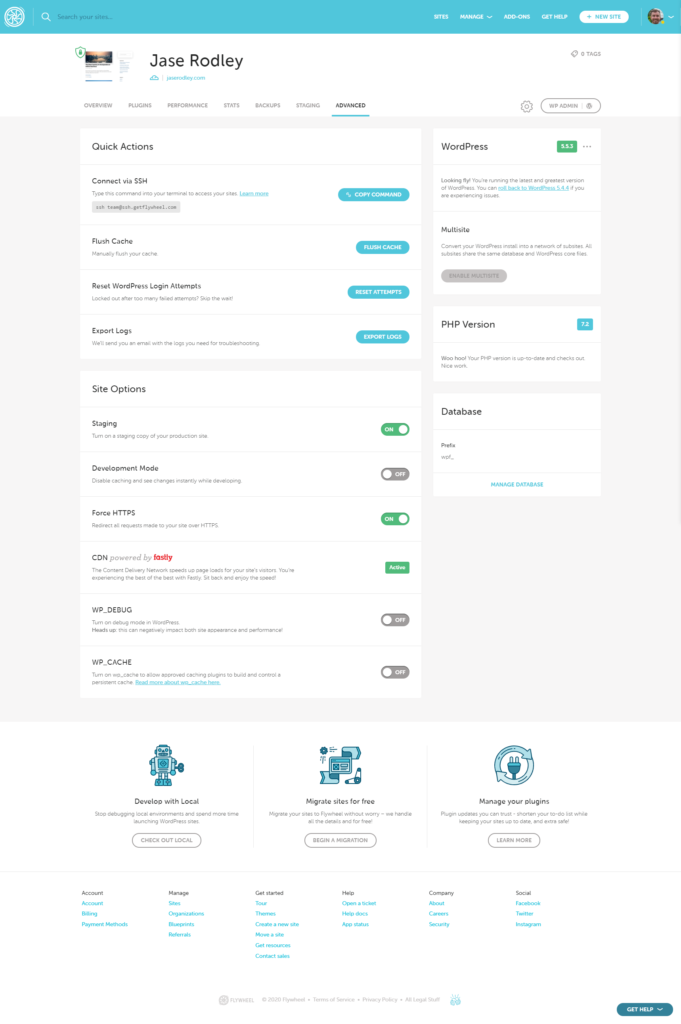 On first glance, it looks as though there isn't much you can do to each site within Flywheel's dashboard, but as you take time to familiarize yourself, everything you need is there:
Creating a New Site
Setting a Primary Domain
Enabling SSL
Hiding the site in "Privacy Mode" (HTTPS password)
Viewing all plugins
Viewing, creating and restoring site backups
Flushing cache
Exporting Logs
Updating or rolling back to newer or older versions of WordPress
Managing the database
Enabling "Development mode" (disabling caching)
Forcing HTTPS across the whole site
Enabling WP_DEBUG
Enabling WP_CACHE
Cloning the site
Turning that site into a "Blueprint"
Enabling a staging site and all of the associated settings to that site
I find adding collaborators is much simpler than before. Instead of sharing passwords, everyone on your team gets their own access to Flywheel. You can add multiple teammates and clients to each site as "collaborators", and revoke access whenever you need to.
SFTP
One of the hidden benefits of collaborators are the individual SFTP accounts. One personal login gives you access to every site that you're listed as a collaborator on.
No more being given a shared password which someone changed and forgot to tell you about!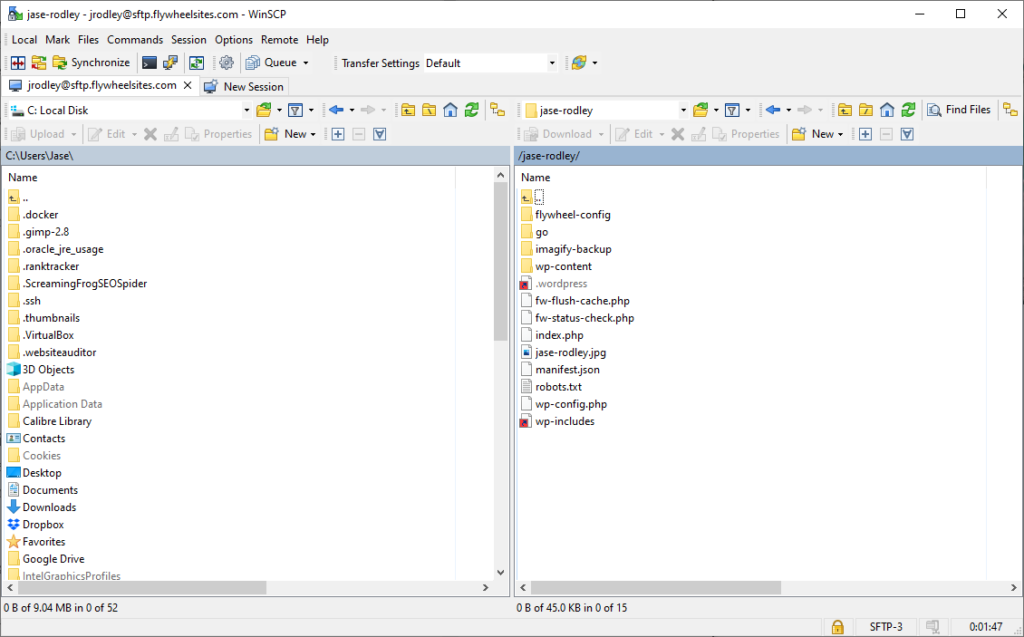 Backups (and Restores) That Work
I can't stress enough how important it is to have regular site backups. That way you can always access the data or restore old changes without losing anything in the process.
Every host offers automated backups, but when it comes time to restore, how many of those backups were good? I've worked with so many clients who needed a backup and the last good backup their host had was from 30 days ago. Bye bye lost work, investment of time and future motivation!
But further to this, what about when you want to restore? Do you need to manually download a zip file, extract, copy files back across and import the old database over the top? It's 2020 people! F that.
Automated backups are something Flywheel crushes with ease. Nightly backups happen without missing a beat and you can initialize a full site restore in about 5 seconds. Everything remains safe, secure and easily accessible.
I'm a cowboy when it comes to working on my own websites, and happily make changes on live sites. But where I used to get myself into a lot of trouble, now I simply backup before making changes, and if I really mess something up I know I can get the site back online within a few minutes by restoring through Flywheel's dashboard. Mint.

All backup files are kept for 30 days after which they are deleted permanently. It gives you enough time to save and store them. Apart from it's automated backups, you can also create a manual backup any time you like.
Website Speed
Your site's load speed can heavily impact your Google rankings, user experience, and conversions too.
Let's face it, if your website doesn't load in a few seconds, your users aren't going to hang around, let alone buy your services.
A very lightweight theme and minimal plugins absolutely helps your site's speed but so does having a good web host. One of the easiest things I can do when buying a website is move it from some cheap Bluehost shared hosting and onto Flywheel where it will consistently load faster.
All Flywheel sites leverage Varnish caching and Fastly CDN. My litmus test is how fast a site loads on Flywheel. If it's slow, there's an issue with how the site is built and I need to address that.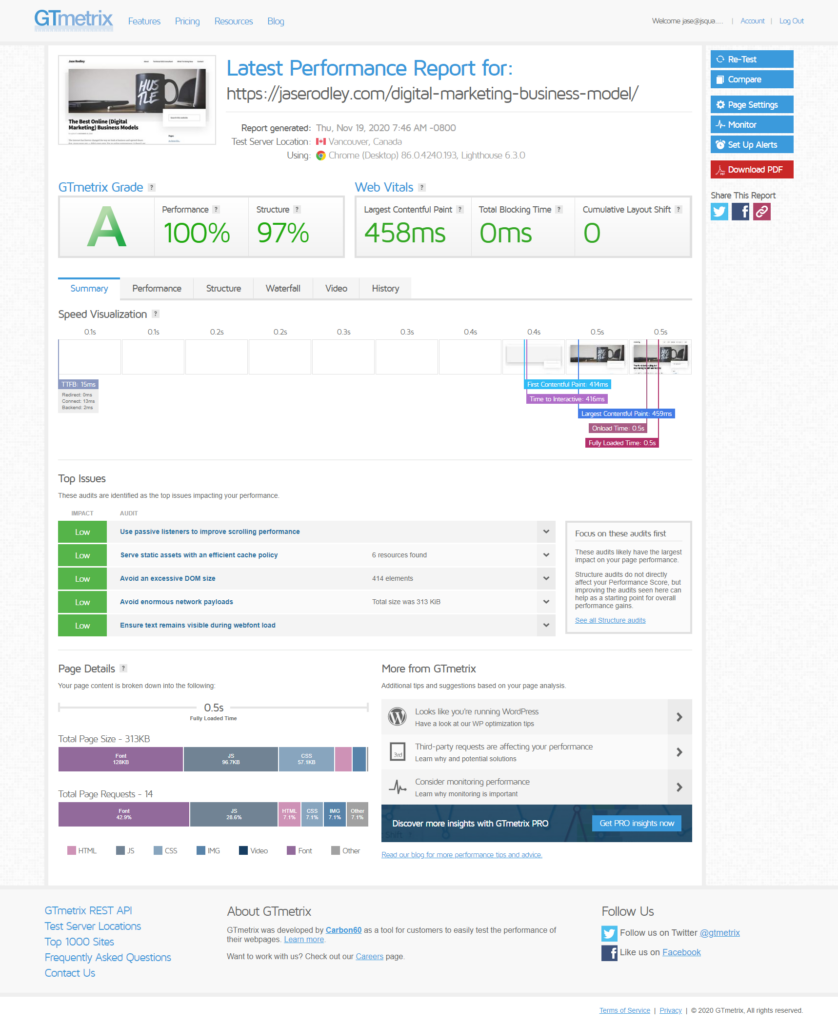 I don't expect you to buy hosting based on this "analysis". I've done loads of side by side comparisons over the years and Flywheel is rarely the fastest of the known managed WordPress hosting providers, but it's on the green side of "fast".
Uptime
Flywheel claims 99.9% uptime, but this isn't in their terms of service. Here's what their ToS says:
The Website shall be accessible to third parties via the Internet twenty-four (24) hours a day, seven (7) days a week, except for scheduled maintenance and required repairs, and except for any loss or interruption of Flywheel Services due to causes beyond the control of Flywheel or which are not reasonably foreseeable by Flywheel, including, but not limited to, interruption or failure of telecommunication or digital transmission links and Internet slow-downs or failures.
So like, 24/7 except for when we need to do things or things go wrong. Clear as mud!
When I'm disorganized and not tracking uptime, I've discovered sites that have been sitting offline that their teams were unaware of. This is not a regular thing, but it has happened.
The reality is, no web host is going to contact you and say "hey we screwed up and your site is down".
Whoever you choose to host your WordPress site, be religious in using Uptime Robot. If anything is wrong check this Status page to make sure you know what is going on.
SSL Certificates
Website security isn't something that should be taken lightly. An SSL certificate tells both users and search engines that your website is secure.
It's not hard to tell if a website has an SSL certificate or not. Look out for a padlock next to the URL bar — if you can see it, the website is safe. In most instances, your browser will warn you if a website is not secure.
As you can imagine, users are less likely to stick around on your website if they know it's not secure — especially if you're collecting sensitive data like payment information or their personal details.
Purchasing and managing SSL certificates manually is unnecessary. Flywheel understands this all too well which is why they offer free SSL certificates with their web hosting packages.
As you'd expect, Flywheel makes it easy to use this feature with a click of a button. After setting up your site with their "Simple SSL" certificate, you can toggle the "Force HTTPS" function within your site option setting to ensure your site is no longer accessible through insecure HTTP.
One-Click Staging Sites
A staging site is like a clone of your website, but only you (or your team) can view it. It's a testing environment, where you can make changes and confirm that they work as intended before you do the same on your live site.
I cannot tell you how many times I've seen web agencies index their clients' staging sites. 🤦‍♂️ Flywheel ensures this won't happen by default. Your staging site is password protected and all is kept safe and hidden from search engines or random visitors.
You can "pull" a new copy back from your life site by simply clicking on "Reset Staging".

Once you're happy with the changes you've made on your staging site, you can "push" them to your live site with a click of a button. You're given the option to push:
just the database, 
just files, or
both.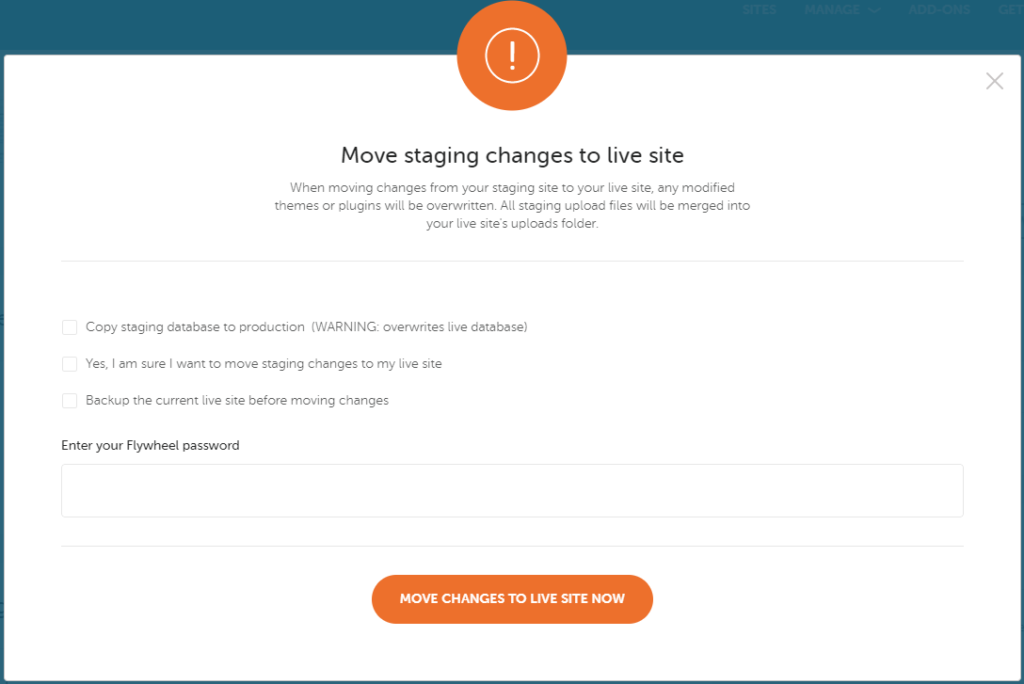 Hosting Client Sites
It's hard to find a better web host for managing client sites than Flywheel.
You can build out sites on Flywheel using a "demo site". When it comes time to transfer this site to a client, you can easily transfer the site. Flywheel takes care of the billing hassles and gives them their own login, so you never have to worry about either of those two things again.
Of course if you want to make some money out of it, you can get a referral commission in the process. Or you can choose to keep the client relationship and use their "White Label" feature, where their dashboard is rebranded with your logo and business name.
If you have an Agency plan, you're welcome to get a listing in Flywheel's "Agency Partners" directory. It's a nice bit of exposure, and a backlink which is nice.
Customer Support 
Having access to reliable customer support is something that is commonly overlooked — until you actually need it.
Flywheel's support has evolved a lot over the years. Originally they only offered email support within US business hours, but nowadays it's 24 hours.
The fastest way to get support is via live chat, but if you need actual technical help you're best off sending an email. Once you've created an email ticket, an experienced engineer will work with you till the issue is resolved completely.
Compared to my experiences with ███████████, Flywheel's true tech support staff are incredibly knowledgeable. I say true because there are 2 layers of "web 2.0 positively awesome customer happiness ninjas" to get through first. This is my core issue with Flywheel — when you need something fixed fast, you have to play the support game and that can be frustrating in the moment.
But once you're through to their third (or whatever) level support, they're a true "devops" or "webmaster" type of person who understands both their hosting environment and WordPress development in detail.
If you opt-in for their agency and custom plans, you do get an account manager, complete with a phone number. These guys are nice, but be aware that their job is to sell.
In addition to all of this, there's Flywheel's library of articles that answer most questions from site management to billing queries. I usually end up finding the information I need here.
Pricing and Package Flexibility
Flywheel's pricing is on the higher side but I prefer to think of this service about the time it saves me. It's not expensive, it's a premium product.
What's your hourly rate? Can you hire someone to manage a hosting system for less than the premium that Flywheel charges? I doubt you can do it for cheaper, and as reliably.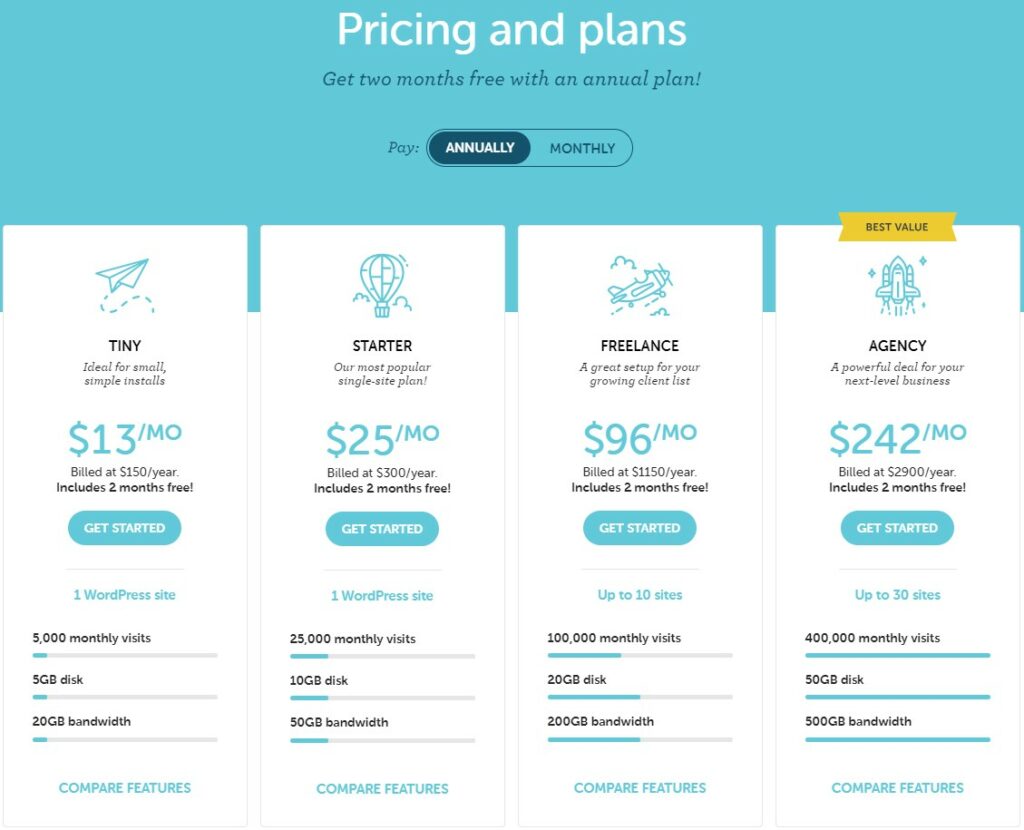 Flywheel's Agency package, for example, lets you comfortably build up to 30 websites that can handle 400,000 monthly visits and this will run you $242 per month. For an agency, $242 per month is not a lot to spend.
Technically there are space and bandwidth limits too but in my experience you're probably not going to hit them, especially if you use Cloudflare DNS and their caching.

On the opposite end of the spectrum, they cater to single-sites at just $13 per month. These plans come with just about every feature that the more expensive plans do, so it's a very cheap way to get very good, low hassle hosting.
As you keep building more and more websites, upgrading your plan is an easy transition. This sort of flexible pricing structure and reliable performance is what I've come to love from Flywheel.
If you find yourself outgrowing the Agency plan you can negotiate larger packages as well.
Migrating to Flywheel
Chances are you will already have a website with another web host and are making the switch to Flywheel. This used to be a process that I would give to their team to do as I am lazy, and often I would lose images from the media library during the migration process.
This service is free, which is great, but unless you paid for an expedited migration you never really know how long it will take. Sometimes it was the same day, others it would take 3-4 days.
This isn't a huge deal, but when I'm investing in websites and migrating a site across to my hosting, I like to get it done quickly so the seller doesn't stress out.
Thankfully the migration process is much more reliable today, and is ridiculously fast to do myself. Flywheel offer a migration plugin, built off of the BlogVault plugin that works flawlessly. 9 times out of ten I can migrate a site within 30 minutes — unless it's huge.
DNS
Flywheel's WordPress hosting has no provisions for DNS. If you are used to your web host offering DNS as part of their hosting package, this might seem a little odd, but once you get used to it it makes sense (sort of).
Their official line is that they do one thing and one thing well — WordPress hosting.
I use CloudFlare's free DNS for a lot of my sites, while the rest just use Namecheap or GoDaddy's in-house DNS.
Setting up a Primary Domain
After setting a primary domain in their system, Flywheel should search and replace your database to make sure there are no references to other variations. During 2020 I've seen many instances of this failing and sites try to load content from a *.flywheelsites.com domain, or a previous Primary Domain.
At the time of writing, it seems that this is resolved, but I encourage you to continue checking any time you change the Primary Domain within their dashboard.
SSL Certificates
While I love the simplicity of Flywheel's Simply SSL feature, it can be frustrating to get running on a live site during a migration. You cannot set an SSL certificate until their system has decided your site is 100% on Flywheel. This means your live site can go for hours or even a day while it gives users a "Not Secure" warning.
If you have a small website, you may see the importance here, but if you have a site that earns say, $100 per hour, 6 hours of turning users away due to the site being "Not Secure" directly affects your bottom line.
While being prepared and using Cloudflare DNS helps in this scenario, it's something that I wish was a bit more flexible out of the box.
Flywheel Hosting Specifications
Above I've run you through the Flywheel hosting "experience" but let's get down to some details. What you will find below is not official information but are bits of info I've discovered from conversations with their support and my account managers over the years.
For any Flywheel staff who are reading if any of this is incorrect, please do tell me and I will update it with the correct info!
Content Delivery Network (CDN): Fastly
Database: MySQL, access via dashboard (no phpMyAdmin)
DNS service: None
Email service: None
Hosting environment: Google Cloud
HTTP version: HTTP/2 by default
PHP version: 7.2
PHP memory allocation: 128MB default, 256MB if you jump up and down
Plugin restrictions: Certain plugins are not allowed, usually relating to:

Backup,
Caching,
Security and
Plugins that can affect website performance.

Security measures: Blocking of malware and hacking attempts built into their tech stack. Daily scanning for security threats. If your site is hacked while hosted by Flywheel, they'll fix it for free.
Server file manager: None (SFTP or File Manager plugin required)
SFTP: Available by default based on your Flywheel dashboard user account
SSL: Free by Let's Encrypt, or provide your own certificate
Staging sites: Included
Support channels: Live chat and basic email support available 24/7/365. Third level tech support generally online during US business hours. Phone support only available if paying $250 or more per month.
Uptime checks: None
Website caching: Varnish
WordPress core updates: Applied automatically after testing. It is possible to opt out of major version updates temporarily, and you can roll back to a previous version if needed.
WordPress multi site: Available on all plans except Tiny
WordPress plugin updates: Available as a paid add-on.
Is Flywheel's Managed Hosting Right for You?
If your goal is complete control or the cheapest possible hosting costs, Flywheel isn't going to be the right fit for you.
But if you want your WordPress site/s to just work, be easy to manage and fast to boot, Flywheel is going to be a top option.
Flywheel has saved me hundreds of hours over the last 5 years and is one of the many tools in my belt when it comes to building a lifestyle business.
A cheaper option than WP Engine and Kinsta, with more knowledgeable support than WPX Hosting and GoDaddy, Flywheel hosting is difficult to beat as far as I'm concerned.