Whether you're buying or selling a website, one thing is certain—you can't do it alone. A buyers need a willing seller, and sellers need a willing buyer.
It's possible to connect with different parties directly, without an intermediary, but it can be limiting. Approaching website owners that don't want to sell means you may pay a premium.
Similarly, trying to sell your website direct can mean missing out on finding a strategic buyer who is willing to pay a higher price.
In both scenarios, you're going to spend a good deal of time as well, and if you're like me, your ultimate goal is time freedom. This is counter-productive.
A quality website broker can help both buyers and sellers. They have 'deal flow' from both sides of the transaction, can help to present businesses in a more professional and understandable way, and can help to facilitate a deal when emotions cloud good judgement.
Read on to learn more about how a broker can help you, considerations to make while choosing a broker, and review some of the best website brokers around.
What Is a Website Broker?
A website broker is an individual or a company acting as a middleman between website buyers and sellers. They are usually hired and compensated by the seller of a website. In exchange, the broker finds potential buyers into contact with the seller.
Some brokers do more than others. Many will gather financial data to create a coherent profit and loss statement, from which they use to make a valuation of the website.
They will need to understand the business to create a presentation of some sort, which can be shared with potential buyers.
Some brokers will do some due diligence, though it's important that they will waive any liability. It's more to protect their reputation.
They may offer an escrow service, and provide access to their own Asset Purchase Agreement, both of which you'd otherwise be paying a lawyer or service provider for.
Essentially, a website broker is someone that a website owner can engage to smooth out the selling process, and help to obtain a fair deal. In return for their services they are paid a fee, often in the form of a commission.
How Do Website Brokers Help?
Most website owners are great at building, growing and monetising websites. Finding a buyer, negotiating a deal that maximises the sale price, and handling the legal agreements is often an afterthought.
A quality broker doesn't only bring convenience, they really should pay for themselves by:
maximising the sale price,
negating the expense of a lawyer or escrow service, or having a connection to one at a discounted rate,
stopping you from making a dumb emotional decision,
saving you an enormous amount of time (which is worth money, remember).
Depending on their level of involvement, your broker will assist with the migration process, ensuring you aren't taken advantage of and that the buyer is satisfied with the deal.
Of course, you can carry out the process on your own. Think about selling a piece of real estate—there's no reason why you can't do it yourself. Using an intermediary is simply an efficient way of selling.
Let's look at some specifics as to why you might want to use a broker.
Organisation & Presentation
For a lot of sellers, their website is a different source of income to their day job—a side hustle. As a result, their financial records are… non-existent.
A broker will be able to piece together a profit and loss statement, turning a website into a business. Now, an investor will be able to able to ascertain the SDE of the business.
Brokers can also understand what buyers are looking for, and how to better present your business to them. They can usually speak the language of both parties, where you may struggle to understand all of the terms that an M&A expert uses.
Perhaps more importantly, brokers are happy to get on calls, send lots of emails and discuss deals with buyers, whereas many site owners only want to do this in the final stages.
Having someone to perform all these tasks can save a heap of time.
Deal Flow
Finding buyers isn't as easy as you may think. Though many may contact you out of the blue, usually they are looking for a deal of the century.
Brokers can assist by creating competition for your asset. Even if they only have 2 potential buyers, those 2 buyers need to compete against each other to buy your website. This keeps buyers genuine, instead of lowballing for a deal.
Website brokers generally have a list of potential buyers looking to acquire sites like yours. Even if they don't have a public facing marketplace, this list can get your business in front of many more suitable buyers than you may be aware of.
Prices
Everyone wants to sell for a ton of money. For this however, it's important to carry out a website valuation so you can set your expectations as to how much your website is really worth. This way, you know what to expect when it comes to getting offers from buyers.
A website broker can help with this significantly as they can help you carry out a website valuation using their resources and expertise. They can also help you negotiate a fair price.
Since they will be earning commission from this deal as well, it is important for them to get it right as well.
You might want to get a fair price for your website, but this can require plenty of negotiation until both parties agree on one.
Not everyone can think clearly in the moment when it comes to financial decisions, and this is especially true if it's your first sale. The right website broker can help to guide you to a good decision, and sway you away from bad decisions.
Security and Authenticity
Some online business models are more defensible than others, so understandably some sellers are weary of sharing too much information with potential buyers.
But on the flip side, a buyer can't make an educated decision, and ultimately an offer, without this information.
A a reliable broker will have already vetted buyers before hand, reducing the number of time wasters you speak with. By requiring some form of commitment, like a signed non-disclosure agreement, a deposit, or an interview, you can expect a greater level of confidence when it comes to sharing your website's data.
Perhaps more importantly, you can rely on your brokers' past experience to protect you and your website from frauds and scams since they will know the right questions to ask and information to verify.
Overall, brokers can create a comfortable and secure environment for you to carry out the selling process.
Confidence
Having a professional website broker around to guide you through the process can work wonders for the confidence you have in your website as an asset, and bringing that into negotiations.
They may even suggest making some improvements like reducing hosting expenses, or changing to a different blog monetisation partner. When applying a multiple to these increases in profit, it can mean more in your pocket after the sale is done.
If you want to hand your business over to a great buyer vs one paying the highest price, they can also help here too. Thanks to a larger list of contacts, your broker can give you the flexibility of choosing from a range of buyers based.
This can allow you to confidently hand over your business to someone who wants to take your vision to the next level.
Best Website Brokers
So clearly, brokers have their place. They can be pretty useful. In that case, which website broker should you choose? Which is the best broker out there?
Below you'll find some of the best website brokers that I'm aware of, as well as what they offer below. Hopefully this can help you to shortlist your decision.
Digital Exits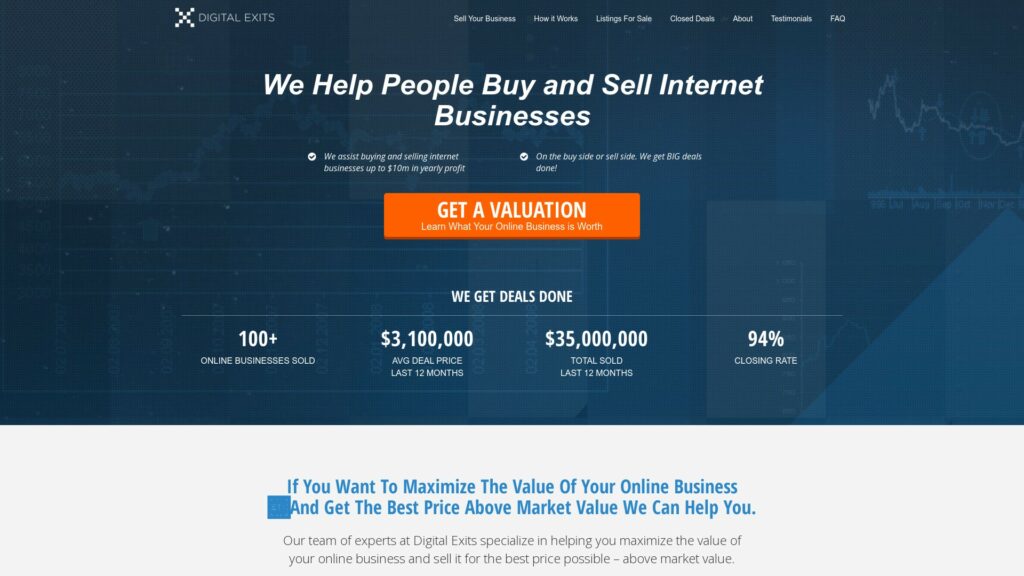 Established back in 2013, Digital Exits, like many others in this list, was founded by someone who had been there, done that. Prior to starting Robert Kale founded a digital marketing company before selling it.
Like any good broker, he can understand the sellers' needs from first hand experience.
Unlike some of the larger brokerage companies in this article, this is a small operation. Boutique, if you will.
Where others focus on content sites, Digital Exits' listings really vary, with some of them being debatably digital. Check into his listings often and you'll see ecommerce, in-person IT services, commercial cleaning businesses, and digital services businesses.
This can be perceived as positive or negative. Does it mean your website is being exposed to buyers who wouldn't otherwise be aware such an asset exists? Or does it mean that your site is only being exposed to a small group of suitable buyers?
Overall I'd say these guys are worth talking to if you have a medium to large website for sale.
Pros
Boutique service
About as confidential as it gets
Reasonable 10% commission
Serious buyers, assuming your website is big enough
Cons
Minimum $250,000/year net profit required
Works with a broad range of businesses
Digital Point Forum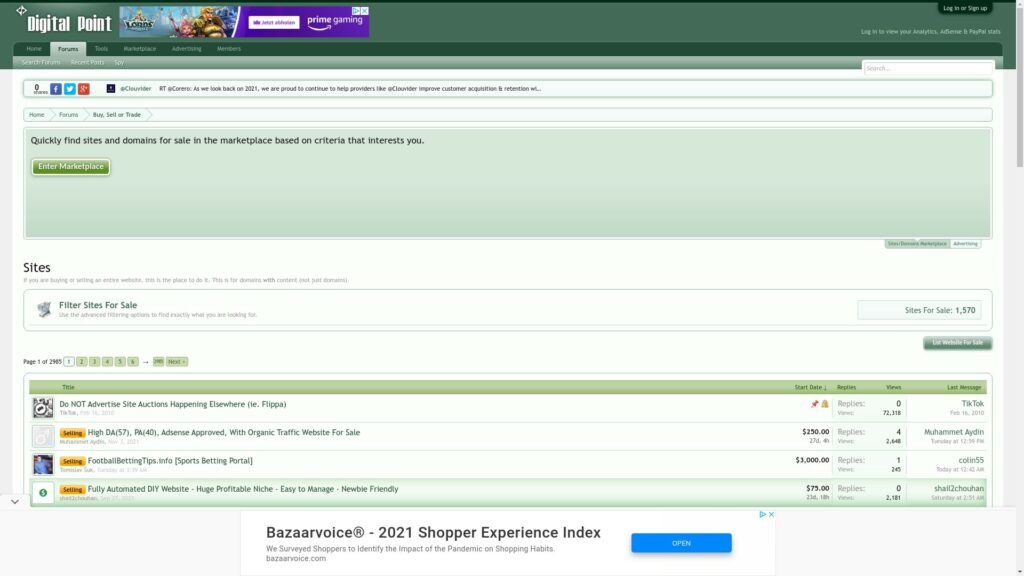 Ok ok, this isn't really a broker. This marketplace is kind of like if Flippa didn't update their design for a decade or more. I wasn't sure if I should even mention it, but it's kind of like a relic when it comes to selling websites, so I figured it deserves an honourable mention.
Like Flippa, it's the wild west, but if you are stuck between a rock and a hard place, and can't list with some of the more reputable brokers in this list, it might be worth your time.
Keep in mind that you are essentially on your own. The only real broker function they provide is some deal flow. This is simply a classifieds site for websites.
Pros
Cheap to list
No commission
Zero minimum requirements
Cons
Scam central, lots of timewasters
Limited pool of serious buyers
Zero assistance with asset purchase agreements or escrow
Relatively small multiples
DotMarket.eu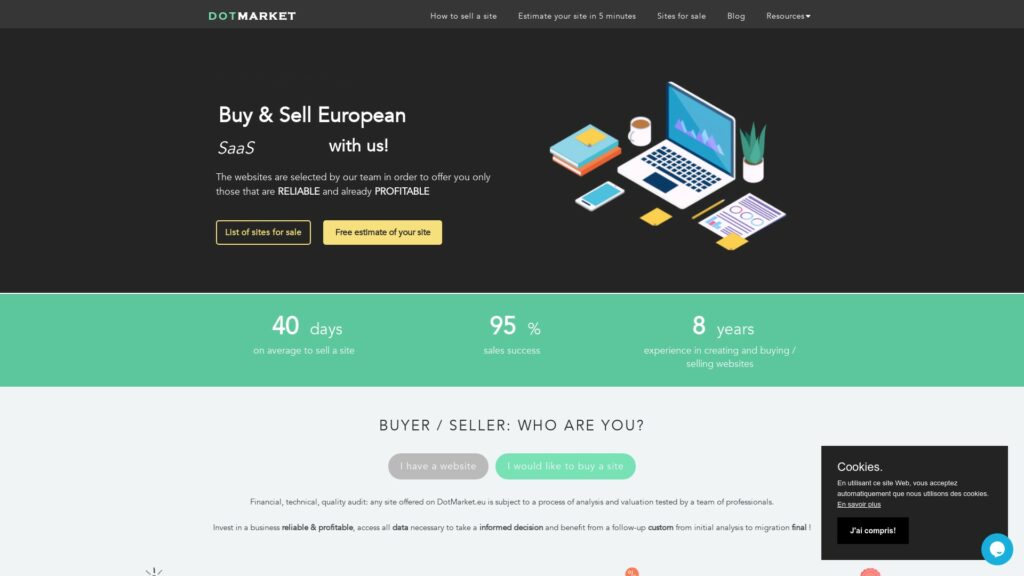 Something I have trouble keeping my mouth shut about is the fact that I live in Andorra. Something I've discovered since moving here is, I'm not the only SEO guy who had that same bright idea. Most of them are French.
As I meet more and more SEOs from around the world I discover how they are crushing it in their respective native languages. Dutch, French, German, Spanish, Swedish, you name it, there's a market.
But what surprised me even more is that the multiples on non-English have historically been much lower, presumably because there are fewer buyers.
DotMarket then, is filling a fairly substantial void in the market. Their focus is on helping website owners in the European market to sell.
Right now, it's pretty clear that France is where most of their connections are, so in general you'll only see sites in that language, but I expect we will see this change a lot in the coming years as word gets out.
Pros
Operates in French, may also be able to help EU focused online businesses
Claimed 95% sales success rate within 40 days
Reasonable 10% commission
Assists with preparing sites for sale
Cons
Limited inventory
Much lower multiples than English brokers and marketplaces
Empire Flippers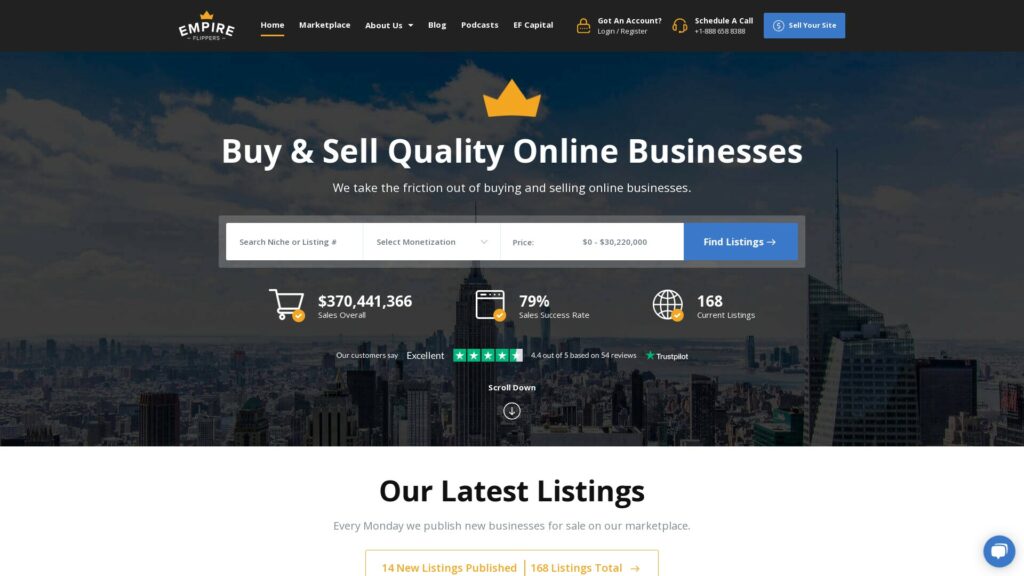 Empire Flippers can also serve you well if you are in the medium to large website range.
They started over a decade ago in 2011 under the name of 'AdSense Flippers' and since that time have been involved in the sale of over $200 million worth of online businesses.
Their marketplace has seen some substantial investment over the last couple of years, and fairly easy to use. This gives an edge against some of the more 'opaque' brokers but does put them somewhere in the list between a marketplace and a traditional broker.
EF will probably hold your hand the most. They are a popular option for content site owners, FBA and ecommerce businesses.
For buyers and sellers who aren't experienced with migrations, their migration service can be very helpful. But if you know how to operate a website yourself chances are you'll find it painstakingly slow, dragging out the sales process.
Pros
Long track record
Easy to use system
Claimed success rate of 79%
Assistance with every step of the process
Cons
15% commission for sales up to $700,000 with a sliding scale down to 2.5%
$1,000/month net profit minimum
No longer listing declining sites
Add-back policy is inconsistent
Inconsistent valuation periods, usually L3M, L6M, L12M (whichever maximises their asking price)
FE International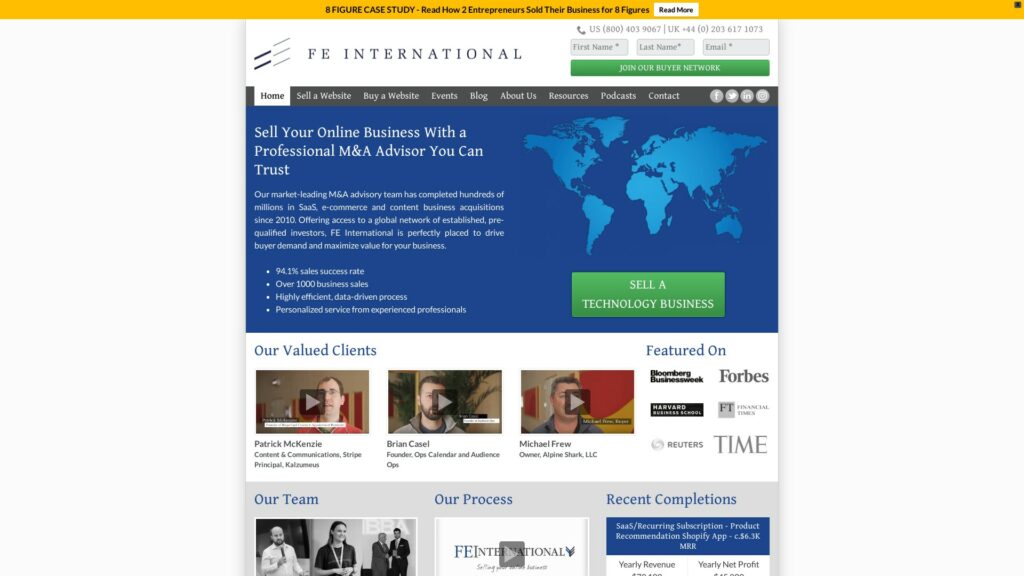 FE International was founded in 2010 under the name of 'Flipping Enterprises' and can be a great choice if you are wanting to sell a larger business. They rely on their very established list of buyers, many of which are institutional investors.
FE have a solid track record of obtaining high prices for sellers, as well as a strong sales success rate. As a result, they will reject sites that they know will not appeal to their list of buyers.
They can help with a range of processes that include website valuation, exit planning, negotiations, due diligence, accounting, legal frameworks as well as post-sale processes.
If you have a SaaS business, they are likely the top option on your list. They are also a preferred option for software businesses (premium themes, plugins, etc) and larger media (content) sites.
Pros
Established and reputed brokerage
Track record of maximising sales valuations
Claimed sales success rate of 94.1%
Over 80,000 investors on their list
Cons
10-15% commission
Not suitable for small websites
Limited assistance with migration
Exclusivity period of 90 days
Flippa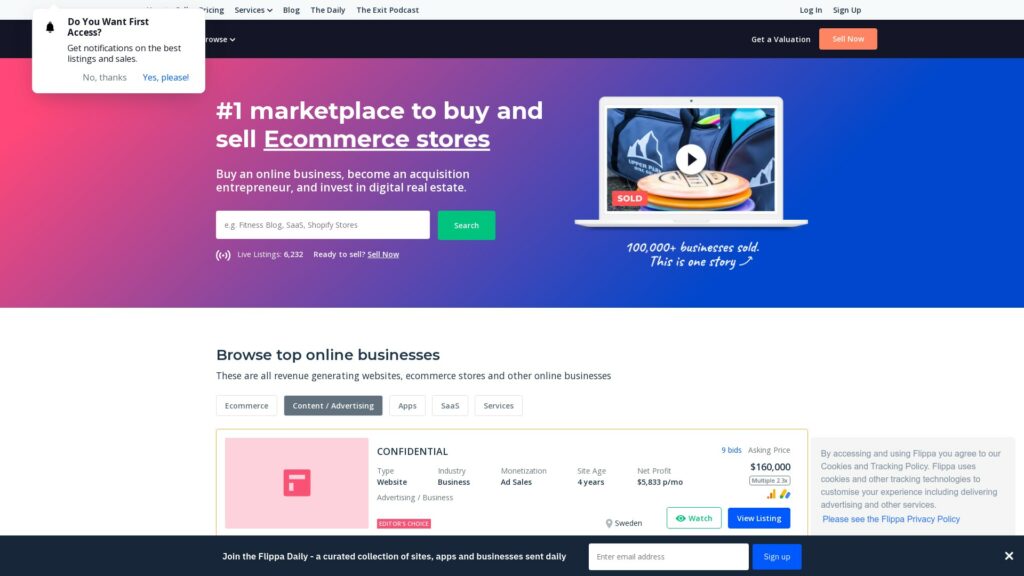 Flippa is a marketplace that can allow buyers and sellers to list and find small websites. Though they do offer a broker service, they are definitely a marketplace first.
In fact, many other brokers sell on their marketplace, since it's such a large source of deal flow.
Though they may offer less hand holding than others in this list, they do still come with some key functions such as a partnership with an escrow service, along with an NDA function.
Flippa is a huge marketplace that doesn't always scream quality, but don't be fooled, there are quality assets to buy on their platform, and plenty of real buyers. You can use an auction system or simply list with an asking price. Nearly all sales happen via negotiation though.
This is a good option if your website isn't meeting the profit requirements that other brokers have in place.
On face value this can look to be a cheap option for making a sale, but depending on the sale price their additional fees can eat into what you take home. They offer several packages that give access to services such as homepage promotion, newsletter features and so on.
Pros
Can work well for small websites
Some social proof between buyers and sellers, as you can see past trades and reviews
5% commission on sales over $100,000
Cons
Lots of timewasters
Less confidentiality than other platforms
Fees for additional services can add up
Even if you cancel your listing, their exclusivity period continues for 90 more days
Investors Club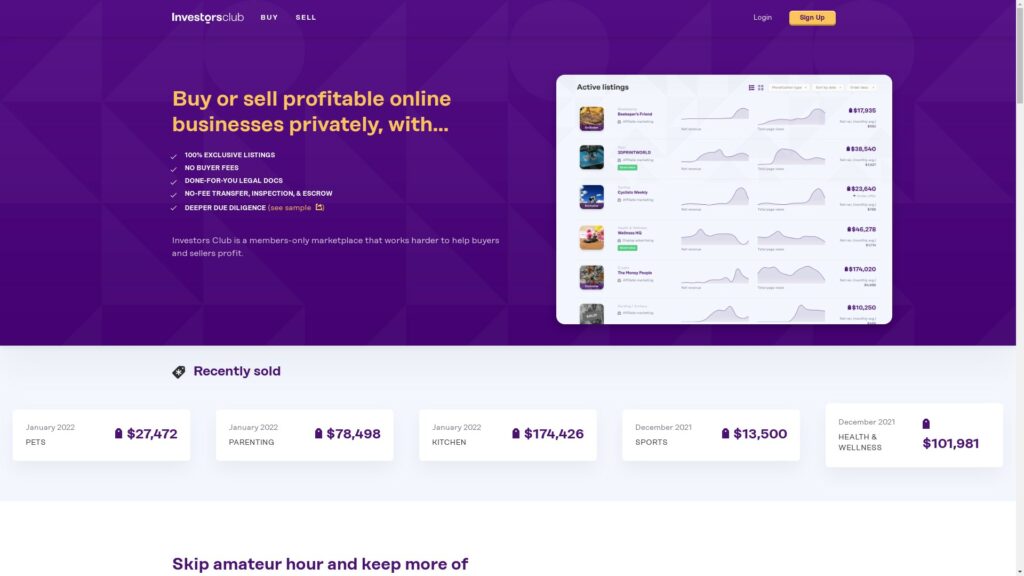 A newer player in the market is Investors Club, and is very much focused on serving the buyers and sellers of content websites.
Most sites you'll find on this site are Amazon Associates sites, with some display advertising.
They provide assistance with transfers, legal docs and escrow, so if these are new to you, it can really put your mind at ease.
An incentive is their website buyers due diligence service. Where other brokers note a few token 'risks' of the asset, it's very clear that they aren't telling you about any actual risks that could hurt their commission.
Investors Club really do put some effort into this analysis, and appear to be some of the most impartial brokers on this list. Does this maximise sale prices? I don't know, but it must create trust with buyers, and trust is usually worth a few extra bucks.
Pros
Easy to use platform
Assistance with every step of the process
Extremely reasonable 5% commission
Detailed due-diligence process
Cons
Only works with content sites (no SaaS, ecommerce, etc)
45 day exclusivity period
Latona's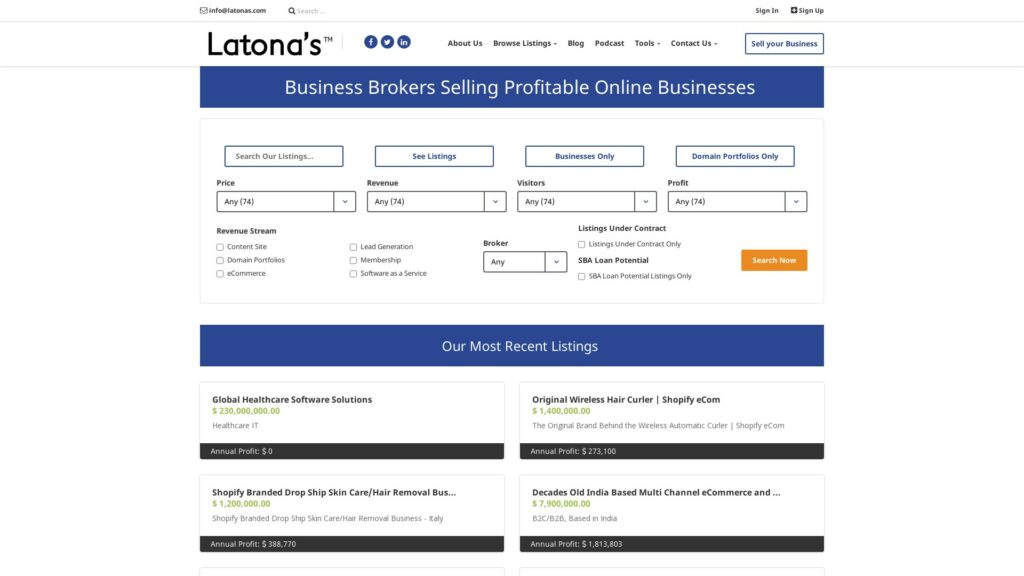 Latona's is another established brokerage to consider if you need to sell your website. They work well for all kinds of websites, big or small.
Founded in 2008, Latona's has established themselves as a trusted broker various kinds of websites such as content sites, eCommerce, leads, domain portfolios, membership sites as well as SaaS businesses.
They are a well-reputed broker, especially popular with site owners who live in the USA. You're most comparable to Digital Exits in this list, with a truly eclectic mix of businesses for sale.
At the time of writing, there's an incredible software company for a cool $230,000,000 listed, alongside a $500,000 'holistic spiritual enhancing crystal' business that operates out of Amazon.
Pros
Claimed 66% success rate
Premium sales prices
Established network of verified buyers
Support for buyers and sellers throughout the sales and migration process
Cons
15% commission
Typical sales timeline is 4 months
Broad range of assets, so sales are undoubtedly reliant on the broker's efforts
Quiet Light Brokerage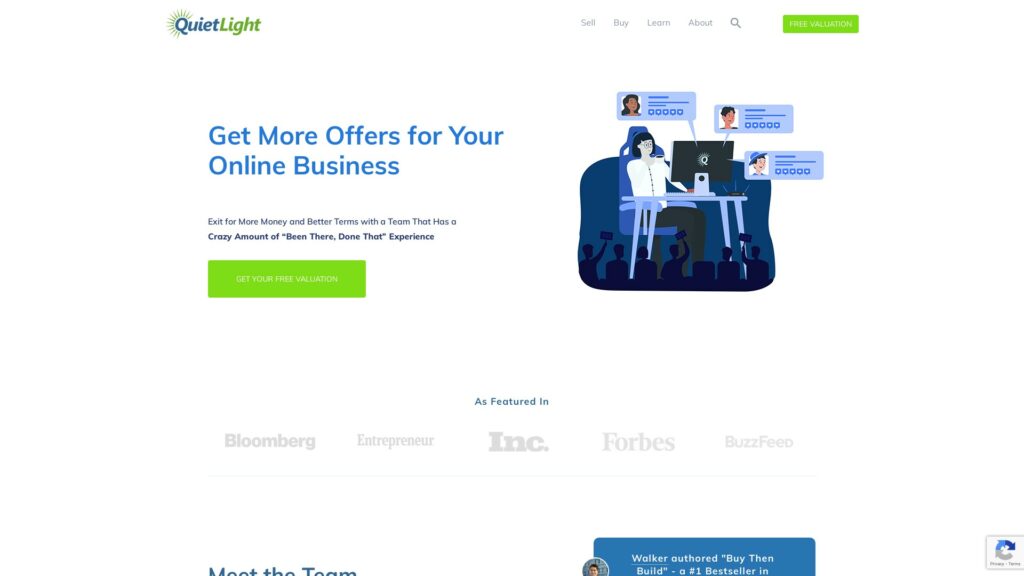 Where many of the brokers in this list are only there to make a sale, Quiet Light join the few that actually ensure a smooth transfer. Despite this, their commission is one of the lowest in this list.
The reason for this is obvious when you consider their history. The company was founded in 2006 by Mark Daoust after experiencing the lack of knowledge and support that other brokers had for online businesses. All sales, no experience.
Despite this 'hand-holding approach', they have grown immensely, both via number of listings and reputation.
Browse their listings and expect to see Amazon FBA businesses, ecommerce stores, SaaS businesses, and of course content sites monetized by affiliate and display ads.
Pros
10% commission, which gets lower on sales over $1M
Premium sales multiples
Established network of verified buyers
Buyers and sellers supported through the sales and migration process
Cons
No due diligence for buyers
Opaque exclusivity period (not present on their website, so can vary on the asset)
Not suitable for very small sites
Motion Invest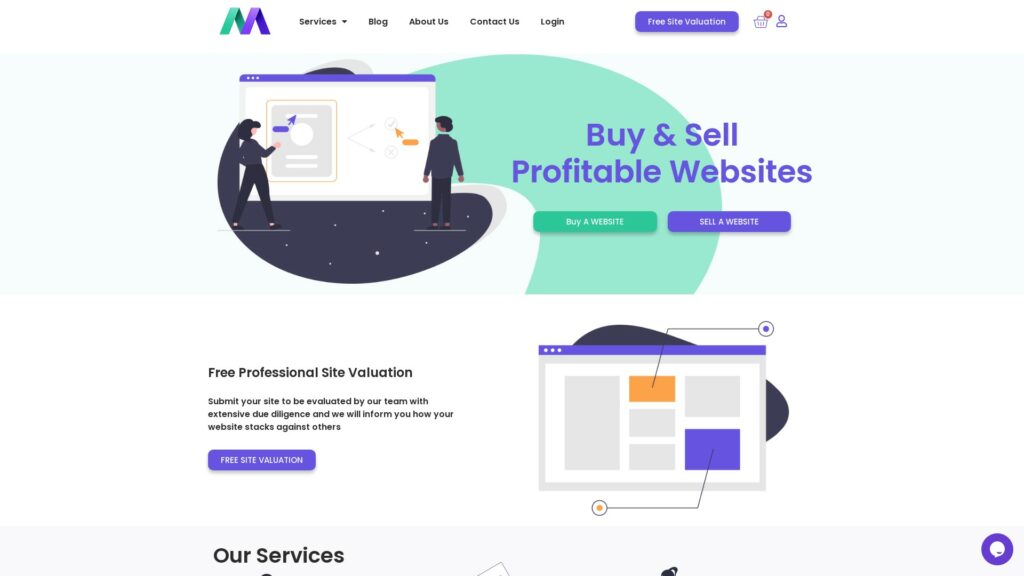 Is Motion Invest a broker? Good question. Like Investors Club they are probably a marketplace first, deal flow for the owners second (often the owners will buy your website), and a broker third.
These guys started out with a focus on very small to small content sites, but this has changed. Now they list much larger sites. In general, they tend to sell sites monetized by Amazon Associates, Clickbank, Ezoic, Mediavine and ShareASale.
Where some of these brokers don't publicly state that they also buy websites themselves, Motion Invest are overt about this. If you want a very quick sale, they offer to buy sites within 72 hours.
Otherwise, sites can be listed on their marketplace via 'Dutch auction', where the starting price is very high, and it declines until someone buys it.
Pros
Direct purchase option allows you to sell within 72 hours
Free to sell direct
31 day exclusivity period
High multiples for small sites
Cons
Less confidentiality than other platforms
Only really suited to selling content sites
Hefty 15-20% commission on a marketplace sale
Website Properties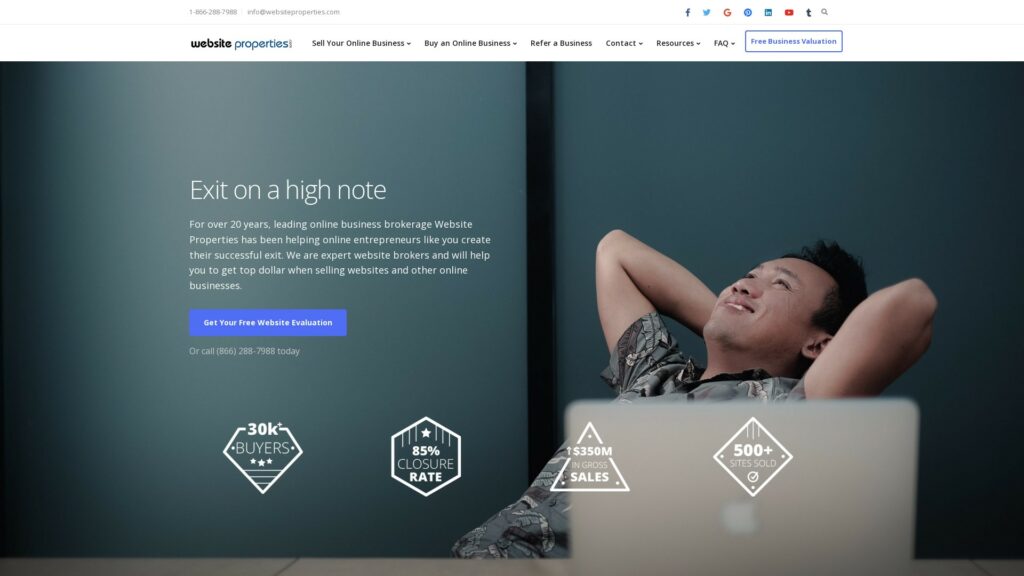 Founded in 2007, these guys have been in the game since what feels like the beginning.
They started out brokering domains, but now work with all sorts of online businesses, including affiliate, dropshipping, ecommerce, info products, newsletters. Yeah, they still sell some domains too.
Their website boasts a client list of 25,000 internet entrepreneurs, which I'd hazard a guess is nothing compared to the number of lifestyle business entrepreneurs on Empire Flippers' list. Of course, you only need a few serious buyers to get a great deal done.
They've sold over $350M worth of sites, ranging from $100K to $25M. On face value, it's difficult to see the competitive edge that Website Properties offers to sellers, until you check their commission rates, which are quite competitive.
I guess you could say that Website Properties are comparable with Digital Exits and Latona's. Depending on the sale price, you could end up with a lot more money in your account by the time it's done.
Pros
Claimed success rate of 85-90%
20 years experience
Commission as low as 6% on larger sales
Cons
6 month exclusivity period
Deals typically take 3-4 months to close
Not suitable for small websites
Things to Consider
What should you keep in mind while looking for the best possible website broker for yourself?
Below you'll find some common considerations, that I and my friends generally have while choosing. Hopefully they contribute to your thought exercise, and lead you to some considerations before deciding which broker is right for you.
Confidentiality
When you sell your business, you have to share a lot of sensitive information. When it comes to online businesses there are generally 2 concerns:
your site isn't very defensible, and is easy to replicate,
your competitors could use your IP or data against you.
So while I feel most online business owners are overly precious about their business, you do still want confidentiality, especially if they have a public facing marketplace.
It is essential that the data and information related to your website is not misused either by your broker or prospective buyers.
Generally this involves asking potential buyers to sign a non-disclosure agreement (NDA) but it can also involve photo ID, placing a deposit, or showing proof of funds.
Experience
It goes without saying that you want someone who understands your business, and understands the industry.
Chances are you don't sell a business every year, so choosing someone inexperienced to sell your life's work would be an oversight to say the least.
A broker who not only has experienced, but takes the time to understand your business can really help to maximise the amount that you get for it.
Services
Some website brokers help with more of the sales process than others. What this means is, you can delegate some of the migration and after-sales hassle to them instead of having to do it yourself.
For experienced sellers, it's a quick task to change over some affiliate tracking IDs and the display ad script, but for first-time website buyers it can be a stressful time, and they can have lots of questions that cost a lot of time.
Combined with assistance on legal agreements, a seemingly expensive broker can end up being pretty good value by the time you price your time into the sale.
Valuation, Success Rate & Timeline
If there are 3 main things most people want from selling a business, they are:
the new owner to take it further than the current owner can,
any team members to be taken care of,
to maximise the sales valuation, within a reasonable time frame.
One broker may be more experienced with your business model than the other, so do some digging and find out what their track record is for your business type.
You don't only want to know the total sales price, but also how many deals they actually close. If their success rate is low, you run the risk of burning time and energy getting nowhere.
FAQs
Do I Need a Website Broker?
No. There's no reason why you can't do it yourself. I've sold 2 businesses directly to a buyer, and bought 5.
The cost however, may be a lot of your time, a lower sales price, or even being scammed. It can absolutely be done though.
How Much Should I List My Website For?
How much you should list your website for depends on the value of your website. This is generally based on a multiple of your SDE. A simple way to reach this number is using a calculator, find out how much your site is worth here.
There are several factors that will affect the value of your listing, so do what you can to make improvements and find a good broker.
Do your best to get your website on an upswing. If you use organic search for traffic, publish new content, get some new links and show that 'it's only going to get better'. Reduce any ongoing expenses, like hosting.
This:
increases your SDE, and
increases the valuation multiple that most buyers are willing to pay.
Combined, it means more money in your bank account.
Other than this, prepare all the necessary documents as well as all the relevant statistics. The cleaner you can make your business, the faster it will sell.
Will the Broker Help Me with Legal Paperwork?
Not all brokers are likely to help you with legal paperwork. If this is a service that you require, then make sure that you opt for a website broker that offers this kind of comprehensive service.
It can be quite confusing to figure out the legal aspects on your own, so make sure you have a trustworthy broker to help you out with this.
Which Broker Did You Choose?
Have you sold a business recently? Who helped you to get the deal done?
I get to buy and sell websites more than most people do, but even then I don't get to work with everyone all of the time.
Leave a comment below to share how your experience was!