If you're building your business for a better life like I am, chances are you want that business to be:
cheap to operate,
easy to manage,
profitable, and
without friction (both for you and your clients/customers).
Business isn't easy, but it doesn't have to be hard.
As an Australian who has lived in multiple countries and done business with companies all around the globe, I've learned a lot about making business unnecessarily difficult.
If you look at that list above, I've found myself foolishly operating my businesses through entities that are:
expensive to operate,
unbelievably difficult to manage,
become unprofitable fast after paying agents to fix your problems, and
have friction at every step, from paying suppliers to integrations to getting paid by clients and customers.
I'd always told myself it was worth it for a myriad of reasons (though mostly just the result of being curious and wanting to have "tried it once"). It rarely was.
Despite being a foreigner, opening a company in America may be the best business decision I've made to date. While it won't solve your business problems, it won't cause you a heap of new problems. Everything is just… easy!
If you're a non-citizen, non-resident foreigner and you want to register a company in the USA, this article is for you.
Can a Foreigner Start a Business in USA?
Yes, absolutely. This is as relevant for multi-national brands as it is for solopreneurs. Though the exact percentage is hard to pinpoint, there are plenty of foreign owned LLCs doing business in both America and abroad.
There are a few extra hoops to jump through as a foreigner, but as you'll see below, they aren't particularly onerous.
The exception here is that you cannot form an S-Corp without US resident shareholders, but as you will also see below, that's not a problem for most of us.
Why Do Foreigners Want to Start a Business in USA?
After writing about the best place to incorporate an online business, I've spoken with people of all walks of life who, for one reason or another, cannot run their online business in their home country.
Below you'll see some of the common reasons people cite for deciding to start a company in the USA vs their home country.
Banking
Low cost, government-backed bank accounts that operate in a stable currency with quick transfers to basically anywhere. US banking isn't perfect, but there's plenty to like.
Most digital banking products operate out of the US, along with rewards credit cards if you want to go down that track.
Fees
When you're from a country where it's very cheap and easy to form a company, you probably don't give this much thought. In some countries, it can cost thousands in government, legal, notary, and other fees to start a new company, as well as annual renewal fees and any time you decide to make changes to that company.
An example of this is my friend who wanted to start a travel agency in Spain. The start-up company would be required to pay a €140,000 fee to register as a retail agent, then make a €180,000 bond deposit. This is in addition to all of the other registration fees, let alone actually being able to fund the start up costs of the business!
America is like most first world countries, where registration and renewal is very affordable.
Reputation
I was recently contacted by someone from Nigeria. He operates a digital agency providing content to other businesses. While he provides a quality service, his country's track record online has cost him more in lost sales than he'd like to recall.
By trading through a Wyoming LLC (Limited Liability Company), he now leverages the reputation and trust that comes with American business.
Payment Processing
Another contact is building a SaaS product with her development team in Nepal. They need cheap, reliable, easy-to-integrate payment processing, which they have trouble finding locally.
By trading through a US company, they gain access to Stripe, considered by many to be the gold standard of payment processing.
Ease of Operating
Some countries require company owners to spend a ridiculous amount of time filing paperwork. If you're living in a country where the native language isn't English, getting paperwork done in another language can be a real pain.
If you're a non-resident, non-citizen operating a US LLC in a state like Wyoming, you're unlikely to spend more than a day or two each year thinking about your actual operating entity.
Though these operating requirements will change down to every individual situation, in a simple scenario of running a disregarded-entity Wyoming LLC, annual requirements will look something like this:
filing annual compliance report
renewal of registered agent service
filing Form 5472 with Form 1120 cover page
Depending on who you use as a registered agent this is likely handled entirely by them. Renewal of their service simply involves paying their bill, which even if they are expensive is probably only $500, and will include that annual report filing.
Forms 5472 and 1120 will require some input from you, but it will probably amount to 30 minutes the first time you do it with the help of your agent if you have kept accounting records during the year.
Taxes
If you live in a country with low income tax like many internet entrepreneurs, registering a US LLC may be advantageous. When run as a "disregarded entity" without any "Effectively Connected Income", there's essentially no tax at the company level. Instead, it must be paid at the personal level.
More legally allowable deductions may also be a benefit. Many people will run their company with limited profits, but their company gives them a lot of benefits, lowering their tax burden.
Tax is complex, but many people choose to do business via a US LLC for these reasons.
Remember: there's no one size fits all rule when it comes to tax, so if you're planning to use a US LLC and do not fully understand the tax implications, I can't stress enough just how important it is to get professional advice.
Corporation vs LLC: Which is Best for a Foreigner?
Like other countries, there are a number of different ways that you can trade as a business in USA.
For example:
Generally, foreign citizens and companies incorporate their US business as an LLC or C-Corp. This is because neither of these types of entities has restrictions on the number of foreign owners.
Partnerships and Sole Proprietorships are not popular as they do not limit the owners from liability in the same way that a C-Corp or an LLC does.
If you are a solopreneur or a small business owner, an LLC is probably the best fit. They are by far the most common choice among foreign small business owners wanting to establish their business in the USA.
The exception to this rule is if you are planning to seek investment capital. C-Corporations formed in Delaware are a particularly popular choice among startups seeking venture capital.
Since I mostly write about lifestyle businesses that online business models can offer, from here on out I'm making the assumption that you want to set up a US LLC.
Which State Is Best to Register an LLC for an Online Business?
I won't get into the nitty gritty of this, as opinions and biases come into play here. Generally however, you'll find 2 states to be the most common when it comes to registering online businesses:
Delaware
Wyoming
I'm going to massively oversimplify this for the sake of brevity, but they both:
are cheap to operate out of,
have no income tax (if not doing business in the state it is registered in), and
have no sales tax (if not doing business in the same state).
Delaware: For When Investors Are Involved
If you're taking investment capital from other parties, chances are that Delaware will be the best place to start. Your investors will probably have experience with this state already, and they will likely guide you to it.
This is essentially due to the legal system in Delaware. Delaware's laws are very business-friendly, and the court is known to be quick in reaching decisions. Due to the number of cases handled, there exists a large body of precedent, meaning fewer unknowns for LLC members.
Though there is no income tax in Delaware, there is a "franchise tax" of $300 per year (flat fee).
Wyoming: For Small Partnerships and Single Members
If you are doing it alone or with only a few others, Wyoming is likely a better bet. Wyoming comes with most of the benefits of Delaware, but:
is cheaper to set up,
is cheaper to renew,
involves less paperwork and
provides greater privacy.
Simplified further, Wyoming is cheaper and easier to register and operate. In the process below, I'll walk you through the steps for setting up a Wyoming LLC.
How to Start a Company in USA as a Foreigner
Dear reader, time is your most precious resource.
Setting up a new company might feel like a major task but it really isn't.
My goal is for you to get set up and making money ASAP. I don't want you spendingwasting months and months thinking about getting started.
As a foreigner, the process isn't lightning fast. The first time you set up a US LLC, the entire process can take around 5 weeks.
As you'll see though, a lot of this time is spent waiting around for other parties. You shouldn't need to spend more than a day worth of your time in total on this process.
Step 1: Register Your LLC
To start the process you need to work with what is known as a "Registered Agent". This is essentially a company who will register your new LLC.
You pay your fee, give your agent 2-3 different company names, provide some personal information (which they keep confidential) and details of your business.
I say 2-3 company names, because a quality registered agent will also do a USPTO trademark search for you to ensure you're not too similar, or identical to something that may cause trouble for you down the road.
Usually your new LLC will be registered within 72 hours.
Action: begin the registration process with a registered agent. I trust Freedom Surfer.
Cost: $319 (use code "jase" at checkout for a discount)
Step 2: Create an Operating Agreement
While not required in most states, it's a good idea to have an operating agreement anyway. It's basically a legal document that states the ownership and operating procedures of an LLC.
Having one ensures all business owners are on the same page, reducing the risk of conflict in future.
Step 3: Get a Physical Business Address
This might seem like putting the cart in front of the horse but I like things to be organised. If you don't have one already, get yourself a business address in the USA.
You can get away with using your registered agent's address, but often these get flagged with banks and payment processors and cause trouble down the road. This is because tens of thousands of companies are all registered to the exact same address, and in some cases, PO boxes are used.
For this reason, I recommend using a real, physical street address service. There's no rule saying that your Wyoming LLC needs to use a Wyoming street address, but if you want to raise the fewest flags with banks, it does make sense to do so.
This street address can be used to collect mail which can be scanned or forwarded to you, which can come in handy later on for any IRS paperwork or credit cards you want sent to you (as they will not be shipped overseas).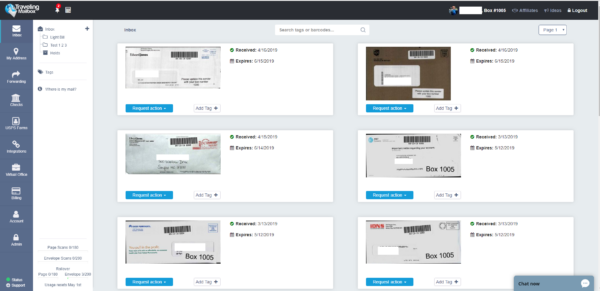 Action: sign up for a physical street address. I like Traveling Mailbox.
Cost: from $150/year
Step 4: Apply for an EIN
In order to set up a bank account, you'll need an Employer Identification Number from the IRS. An EIN is essentially a social security or tax file number, only for business entities.
If you have an SSN or an ITIN, you can apply for one for free online. If you don't however, it can be a bit of a hassle to get one. You can do so by:
Fill in Form SS-4.
Fax it using a virtual fax service.
Wait.
If you use a fax service you should receive a return fax within around 4 weeks of applying, otherwise, your virtual address service will open and scan this letter for you.
Many registered agents, like Freedom Surfer, will provide an EIN application as part of their service.
Action: either file Form SS-4 yourself, or consult your registered agent.
Cost: from $0
Step 5: Get a Bank Account
The days of needing to get on a plane to open a bank account are long gone. Traditional banks are becoming increasingly difficult to work with, while newer "digital" banks are quick and easy to set up while having very few fees.
I'm bringing plenty of biases into this discussion, but I feel the 2 best options are:
Mercury: best for ecommerce, SaaS and service businesses, or
Wise: best for affiliate marketing and content sites that earn ad revenue.
Mercury provides you with many checking and savings accounts in USD, which is great if you're planning on using something like Profit First for your company. You also get physical and virtual debit cards on demand.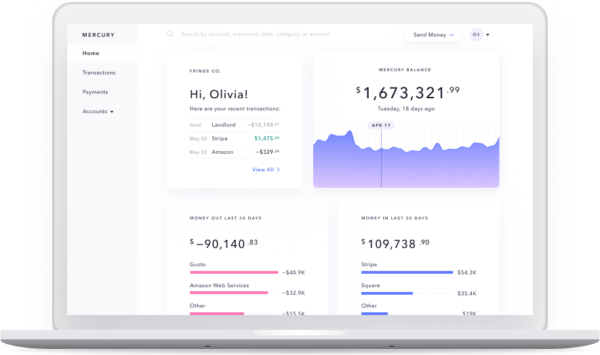 Wise on the other hand, gives you local accounts in Australia, Europe, Singapore, USA, UK and elsewhere. This can be helpful if your business earns income from affiliate marketing and you need local bank accounts for program payouts.
Of course, there's nothing stopping you from setting up both!
Action: apply for either a Mercury or Wise account.
Cost: free, with a $250 bonus at Mercury
Step 6: Get a Payment Processor
If you plan to process credit card payments, this step is important. In general, your best options are:
Stripe give a better rate, while 2Checkout allow you to process PayPal payments without a PayPal account.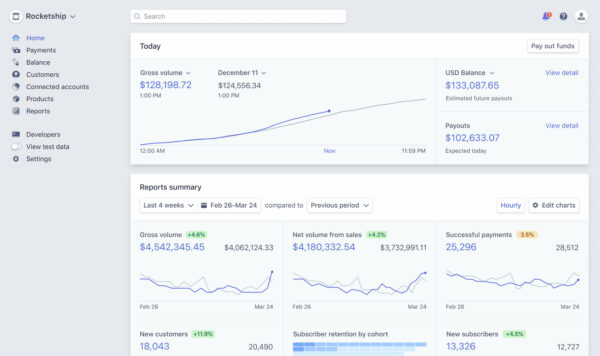 These applications can require you to jump through some hoops. Depending on your level of paranoia and how often you travel, you may want to set up a virtual desktop like Amazon Workspaces to apply and login to these services.
Expect either payment processor to hold your payments for a longer period of time in the beginning. They want to protect themselves in the event of chargebacks, so try to have a few months' operating expenses in your bank account at the time of opening (and expect them to ask for a screenshot).
Action: apply for either a 2Checkout or Stripe account.
Cost: free
Step 7: Set up a Bookkeeping System
Now that you're set up you'll want to make sure you have some sort of accounting system in place, both for record-keeping purposes and to help you run your business well.
If you're planning on doing the accounting yourself, both Mercury and TransferWise accounts will auto-import into Xero daily. I do encourage you to not do this yourself though.
A service like Bench can save a lot of time, and it's work you should really be delegating. You get a company email address for receipts and just forward anything/everything to it, and everything is magically organised.
Action: sign up to a bookkeeping service like Bench.
Cost: from $159/month
Time to Trade!
There's no reason why you can't be set up and ready to do business with your new US company in around 5 weeks.
Not sure a US LLC is right for you? Take a look at my guide to the best countries to register an online business, or if you're wanting something more extensive, you might find this free low tax business set up course, run by my friend Kathleen.
As always, don't hesitate to leave me a comment! If I know the answer I'll do my best to point you in the right direction.
Please note: I can't answer any questions relating to visas. I have zero experience in getting a green card or a different visa in the USA.