Getting a website to the top spot in Google isn't getting any easier — everyone's stepping up their game. If your competition is using the best SEO practices they can get their hands on to make it happen, you'll need to as well.
Despite what many SEOs may tell you, Google's a long way away from using a "content-first" algorithm. Lots of other things matter.
But content quality is a major factor, and how search engines are able to understand your site is another. Keyword research is at the core of both the content and structure of your website, but depending on how it's done it could be the most valuable part of the process, or the most useless.
It's not just the keywords that make all the difference — it's how you use them. I see people selling keyword research services on marketplaces like Fiverr, but that's a low-value task when it's not built into a keyword map or plan of some sort.
In this article, we'll cover the basics of creating a keyword map for your website and how it can transform your content planning process. This is the value-adding part of keyword research, where you turn a bunch of words into a strategy that will help you to dominate in Google.
By the time you're done reading this, you'll know exactly why most SEO specialists put so much time and effort into doing keyword research and planning website content.
What is Keyword Mapping?
Your website has many pages, and in theory, any of them can be optimized to bring them to the top of Google. But optimizing them is more than just adding a focus keyword in Yoast and getting some green lights.
To correctly optimize a page or a blog post, you need to be clear on the topic and it's talking points. Keyword research gives you those talking points, and mapping them makes it clear as to which page relates to each keyword.
So how does keyword mapping work? It involves the process of assigning specific keywords to individual pages of your website.
This process helps me to take off my SEO hat (light grey, depending on the site) for a while and to think about topics. If you take an existing website and note down the topic of your existing posts or pages, then consider the information that your audience is looking for, chances are you'll realize there's a lot missing in between the gaps.
Maybe you've written on the same topic 4 times over. Maybe you've forgotten to write about a topic that is very important to your audience.  All of this becomes clear once you begin mapping your website content.
Why Do You Need One?
Keyword mapping can help you come up with new and interesting content ideas but that's not the only thing we're interested in.
When done correctly, a word map strategy removes all the guesswork that comes with planning your website's content structure. You're left with a clear "page by page" plan that, in my experience, brings about results.
Below I'll run through some of the main reasons why mapping a website to the right keywords is crucial to the success of your content based SEO campaign.
Prioritizing Keywords to a Particular Page
If you didn't already know, search engines care a lot about user experience these days. After all, they are in the business of giving people what they are looking for.
So if a searcher types in the top page that shows up on Google needs to have relevant content around that keyword.
But the old strategy of having "1 page per keyword" is long dead. Check any half-decent website in Ahrefs and you'll see the top-performing pages ranking for tens of keywords, if not hundreds or even thousands.

Having a keyword map makes this process more streamlined. It lets you identify which keywords best fit a particular page and relate directly with its topic.
Avoiding Similar Content and Keyword Cannibalization
If you own a fast growing website, it can be hard to keep track of all the content that is published. In most cases, you could end up with more than one blog post talking about the same thing.
While some would argue that having more content isn't a bad thing, I beg to differ. Content needs to be maintained. So 100 articles bringing 5,000 users per month is more valuable than 1,000 articles bringing the same number of users per month.
Readers typically value one well-written, well structured blog post that encompasses all the information they're looking for, as opposed to three different articles that fail to hit the mark.

More importantly though, it's not just similar, shallow content that you should be concerned about, sometimes it's duplicate keywords too.
If you have five different pages that use the same, or similar keywords, Google will have more trouble distinguishing between them. Their algorithm is left to pitch your content against your other content in terms of ranking.
In short, you're competing against yourself before you have a chance to compete against your competition. This is what we call "keyword cannibalization".
Of course, when you have a keyword map to reference, you can see the pages and their corresponding keywords and avoid duplicating the same keywords. If you're using a keyword rank tracker, you'll be able to see when the wrong page is ranking for a particular keyword.
For example, I recently wrote an article about lifestyle business ideas, where the topic focused on lifestyle businesses and the many variations of keywords that relate to it. But I've similarly written about location independence as well, where both topics cross over a lot.
If you go and check those articles you'll see that:
My post about location independence only mentions a lifestyle business once, and that text is used, it's linked to my lifestyle business article.
My post about lifestyle businesses mentions location independence but it's clearly a subtopic of a much larger topic. It also links to my location independence post.
Thanks to my content keyword map, I can make sure that each blog post "stays in its lane". That is, I'm much more mindful of the exact topic each should discuss.
Find Pages That Don't Clearly Discuss a Topic
On your keyword mapping journey, you'll come across a handful of pages on your website that don't clearly address a topic, let alone rank for any keywords.

This right here is a great opportunity. Unless you're blogging to tell your family what you're up to or something like that, chances are everything you've written is somewhat related to a certain topic.
If this is the case, add these non-performing pages to your content map, then go and find suitable keywords that you can match each page to.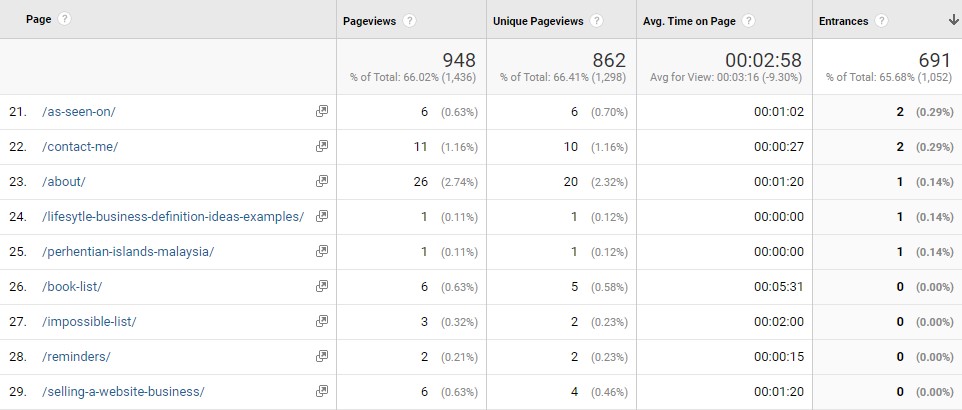 I do this regularly after investing in websites. Often they have really great articles that just weren't focused enough.
Once you know the topic and the specific keywords a page or blog post should be targeting, you can "power-up" this existing content. SEO tools like SurferSEO or MarketMuse can be a great help here. They'll tell you when you have missed sub-topics, used the keyword too often (or not enough), need to add or subtract to the word count, and so on.
By morphing your content around a specific keyword, it improves your chances of ranking for it. Most importantly, it makes your existing content work harder. Remember, more is not always better.
The Role of Keyword Research
Before you get started with keyword mapping, you'll need a list of keywords that you want to rank for. These can be anywhere from simple words to phrases and even short sentences, the latter of which is known as "long-tail keywords".
Aside from helping you brainstorm on relevant topics to write for, keyword research can help you understand:
What kind of content your users are looking for
The real intent behind their search query
The demand for the topic, or how often users search for a particular keyword
All of this information plays a big role in planning your website content. Long-tail keywords are especially useful in shedding some light on user intent and the "why" behind their search query.
Creating a Visual Content Map
Once you have a list of keywords ready, your keyword mapping journey begins. The first thing you'll need is a keyword mapping document of some sort.
What does this document look like? There are no hard and fast rules.
What I and every other SEO I know uses however, is a worksheet that arranges all your keywords and data into page-by-page rows. This makes planning your website's content simple to do, and easier to read and interpret.
This is especially important if you have a team that produces your content as it's more visual than just a Word or plain text document.
Start With a Spreadsheet
The goal of this spreadsheet is to help you organize all your data in a way that's easy to action. A simple spreadsheet like Excel or Google docs works just fine.
Remember that it doesn't have to be fancy, it just has to get the job done.

Start by arranging all your data into different rows and columns of the spreadsheet. When I build these out, I use the following:
Rows: indicate any pages, blog posts, category pages (and so on) of the site.
Columns: are populated with the page title, page type, URL slug, word count, and keywords.
Wait, keywords? Yep…
Keyword Grouping to Match the Same Query
Let's say you've done your keyword research and have a list of 80 keywords that are relevant to your business. It would be extremely uncommon that you need 80 pages to rank for all of these.
However it's not uncommon that many of these keywords will be similar. If you value efficiency and simplicity, your first thought might be to whittle your big list of keywords down to just a few of your best opportunities.
There's a better way though — instead of eliminating these keywords, cluster them together.

I do this by identifying one "primary" keyword and grouping it with similar long-tail keywords. In some cases, I'll have blog posts that are designed to rank for 10 or more long-tail "secondary" keywords. Like this one!
Map Them to the Page URLs (One Row per Page)
All the rows in your spreadsheet should be filled in with draft page URLs. I say draft because sometimes it makes sense to change these URLs after you see the secondary keywords that are associated with them.
From here it's all about matching your grouped keywords to the right pages. Your goal here is to avoid any overlap in similar keywords for different pages.
Make Sure the Page Type Matches the Query
To get the best results, double-check with Google to see what type of page is ranking for a keyword. Remember, our goal here is to make your website perform as hard as it possibly can, so we don't want to waste effort trying to swim against the current.
Don't try to rank a dog toy product on your eCommerce site for best dog toys, as a blog post in the form of a buyer's guide will rank for that query. Instead, consider ranking for the eCommerce intent keyword that accurately describes your product, like remote control dog toy.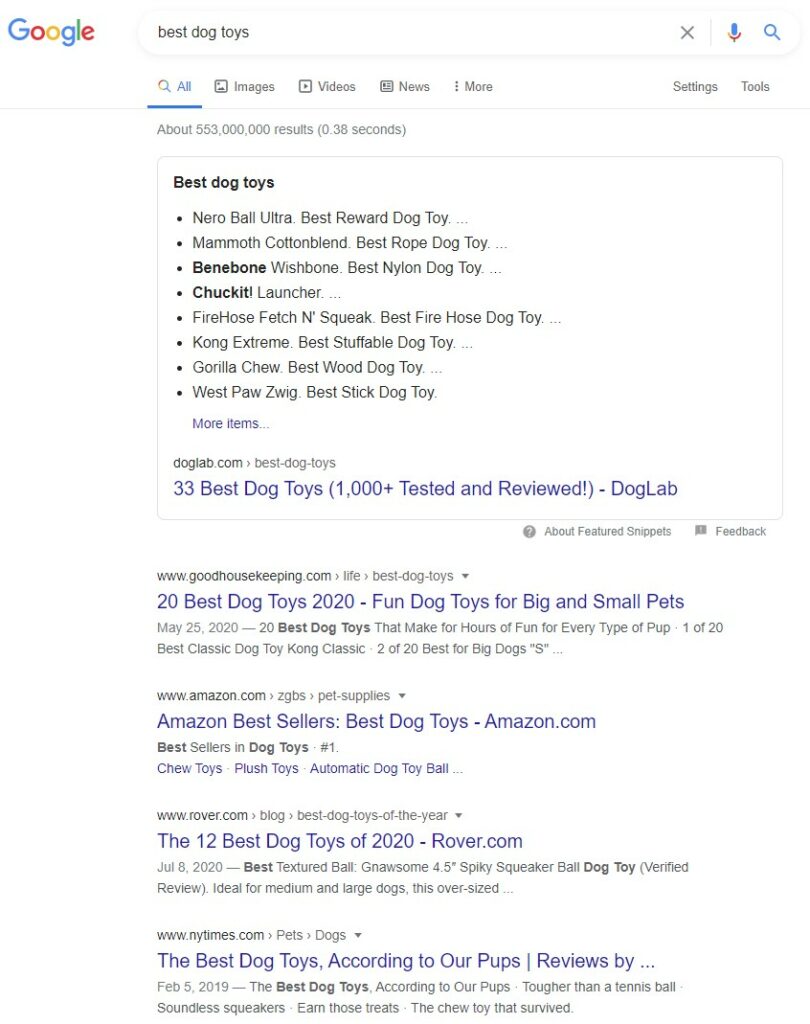 Similarly, if you're writing an article to rank for adelaide property market, (which is typically going to be dominated by informative blog posts and news articles) trying to get it number 1 for adelaide property listings as well would be wasted effort, as the searcher's intent is completely different (they want to see properties that are currently for sale).
Keyword Mapping as a Powerful SEO Tool
Some may argue that it's purely content that drives a page to rank well with search engines. Anyone with more than a few years of SEO under their belt will tell you publishing without a plan is just throwing spaghetti at the wall and hoping it will stick.
I'm not saying that loads of backlinks, a super fast website and a user-friendly experience is all that matters though — far from it.
Great content helps, a lot. But great content that is never seen doesn't achieve much of anything.
A website, and it's content that is relevant to everything your visitors need is what you want. Keyword mapping takes you one step closer to this goal.
Mastering this foundational part of search engine optimization or content marketing campaigns is a valuable skill that will serve you well in current and future projects.